9 Of Best Trivia Games On Android To Tease Your Brain
These are the best trivia games on Android to play with friends and prove your knowledge, memory, and reasoning skills. They are all fun but not easy wins.
All of the best trivia games on Android on this list have online support, multiplayer capabilities, and a host of unique other functions.
94% – Quiz, Trivia & Logic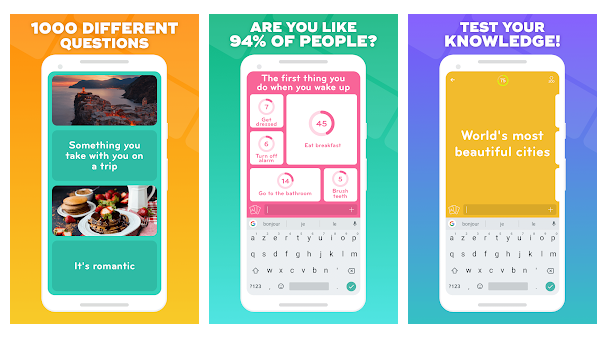 This game has garnered the attention of the users for being the top trivia game Android. Unlike any ordinary quiz games, this game, as the title suggests, will give you a question and expects you to come up with the right answers. For each right answer, you will score, and the total score based on the number of possible right answers will sum up to 94%.
The questions will cover a variety of topics, such as botany, geography, the human body, history, and many more. To help you navigate towards the right answer, you will be given an option called "Joker." Joker option will generate clues for you, and you can use it only once at the beginning of the game since you will have to unlock it as you proceed through the game.
» Download 94% – Quiz, Trivia & Logic
HQ Trivia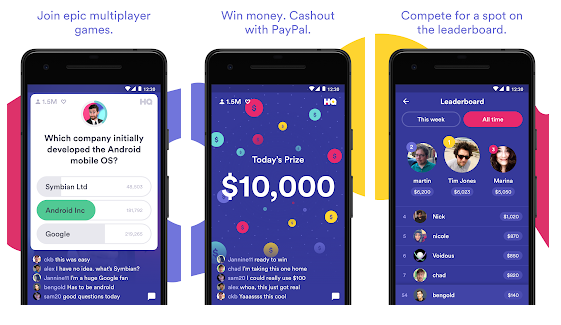 This Android game has been the center of attraction upon its release in 2018. Very few quiz games for Android offer real money, as HQ Trivia does. It provides you with real money once you participate in their regular and weekly contests. This game is conducted at two different times on weekdays, which are at 3 p.m. and 9 p.m. ET, whereas, once on weekends, which is at 9 p.m. ET.
You will be asked 10 questions, and for each, you will get only 10 seconds, which fly by very quickly. On top of that, you have no option to customize the answers or obtain the hints, but to guess the answers. If you fail to answer one question, then you will be eliminated from the round. However, if you can survive until last, then all the eligible participants can divide the money.
Quiz: Logo Game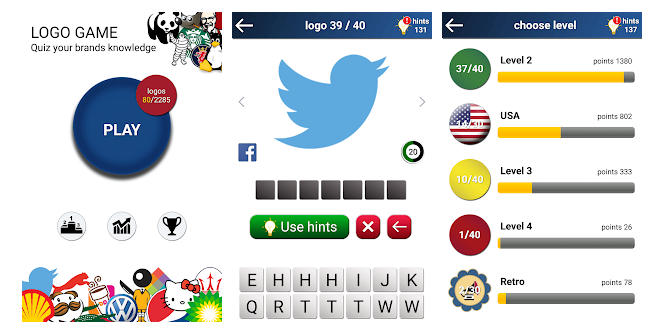 This game will introduce you to a long list of brands that you either know or will learn to know them while solving the logos. This quiz game for Android is free to install but contains at least more than 2000 globally recognized brands. Some of the prominent brands are but not limited to are Mercedes, Volkswagen, McDonald's, Amazon, Apple, Audi, and many more.
Google Play will allow you to access to achievements and leaderboards to check your current position. You can choose to use hint options for a certain amount of time, such as selected letters for revealing certain letters of a word, full solve to fully disclose the word, and remove extra letters to get rid of excess letters, etc. Each of these options will take the points, but you can increase it by watching ads.
PopcornTrivia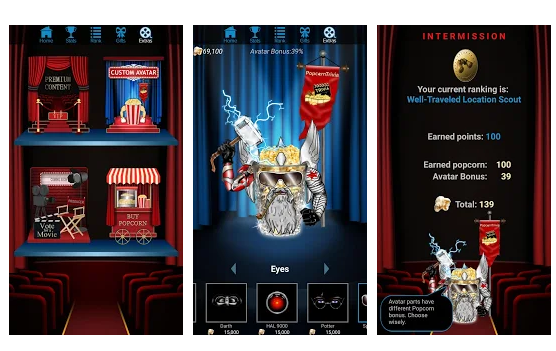 Most of the quiz games for Android are about general knowledge-based quizzes, but PopcornTrivia is an exceptional example among the best Android trivia games. This game is a ride for the moviegoers since this game particularly emphasizes on all kinds of cinemas and TV shows. You will be asked to spin the wheel to randomly select the film, and the game will prepare questions on that movie along with a scene.
These scenes are the real scenes picked from the film, and you will have to choose the right answer out of four potential answers. Most of the latest, as well as retro films, have been listed in this game, and many more are being added every week by the developers. Hence, it is worth watching a movie before participating in this quiz to answer about that film.
Quizoid – General Knowledge offline Trivia Quiz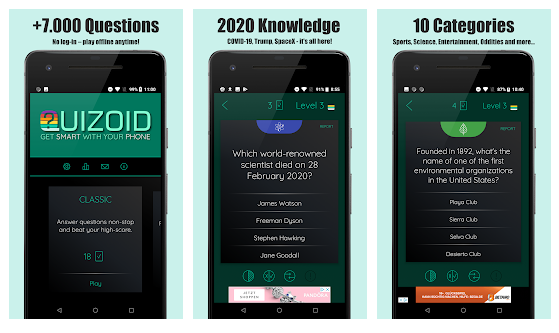 Personally, this is one of the best trivia games on Android, and so is to other users. You will be dazzled to see its huge collection of over 7000 trivia questions from 10 fields of knowledge. These fields include nature, geography, arts & entertainment, food & beverage, general knowledge, technology, science, sports, history, and oddities. You can add 3000 more questions if you switch to a pro version, and that will cost you a couple of bucks.
I love its three-game modes, which comprise of classic, 20 questions, and arcade. The classic mode denotes a situation in which you have to answer as long as you don't get one wrong answer, which will otherwise eliminate you. Secondly, 20 questions mode has no restrictions, and you can continue to play even if you make wrong answers. An arcade mode will put you in a time-challenge to complete your quiz.
» Download Quizoid – General Knowledge offline Trivia Quiz
Trivia Crack 2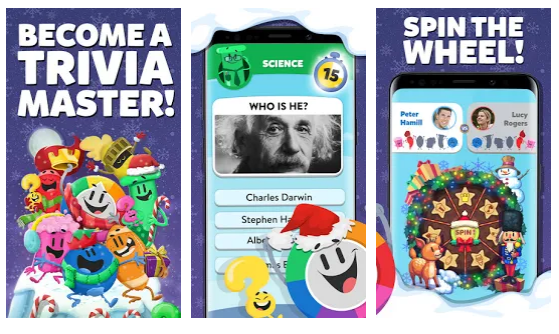 Trivia Crack 2, like its predecessor named Trivia Crack, bears a similar success by bringing the most challenging platform of questions for you. The questions are selected from six different categories, such as art, science, history, entertainment, sports, and geography, and the time for each question is framed. Like many quiz games for Android, Trivia Crack 2 has three modes of gameplay, which are classic mode, tower duel, and daily challenge.
The tower mode is an exciting mode in which the player gets 7 chances against the opponents to answer the questions. For each chance, you can select your desired category and answer it. Yet, you get the chosen category if you manage to answer the most compared with your opponents. The higher the categories you acquire, the greater the chances you win. As you go through the game, the questions get harder.
QuizUp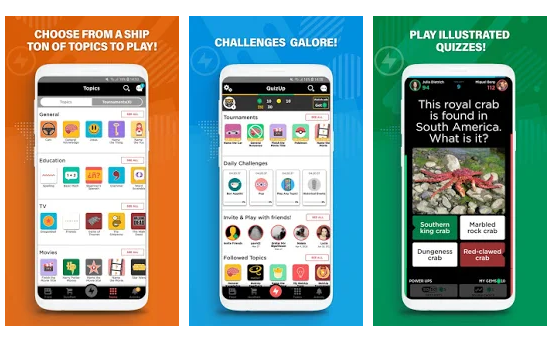 QuizUp has ranked top amongst a few of the newly released quiz games for Android. One of the most distinctive characteristics of this game is that it has encircled tons of topics, for instance, general knowledge, cars, Harry Potter movies, Disney movies, science, and many more. You can play either PvP or multiplayer to win the rewards. The graphics of this game is outstanding, and the background music is nicely synchronized.
Most of the brand-new features, as well as new events, are inaugurated during the holidays or upon the release of a new movie. Unlike most of the best quiz apps for Android, QuizUp enables the users of any part of the world to connect with this game, regardless of ethnicity. However, this game has been paned for focusing too much on USA-based activities.
Trivia 360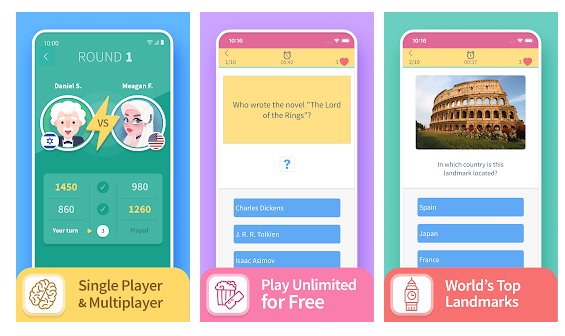 Trivia 360 has recently joined as one of the new quiz games for Android. The graphical user interface will tell you what a premium quality app it is apart from the friendly nature of this quiz game. The graphics of this game will immerse you into its visual pathway so extensively that you will almost forget to pay attention to playing the quiz. In this game, you can choose your preferred avatar.
The caricature looks of some of these avatars are ludicrously funny that will lure the youngsters into taking part in this quiz. The worse scenario for the majority of the best Android trivia games these days is the lack of connectivity and complex exaggeration of the game. On the contrary, Trivia 360 makes each question comprehensible and concise for its users in terms of length and number of options.
Free Trivia Game. Questions & Answer. QuizzLand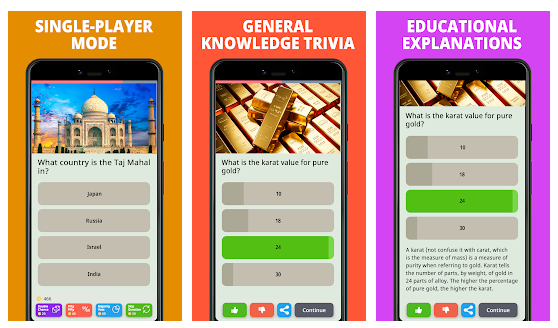 Although this game resembles some of the features of QuizUp games, the depth of general knowledge, as well as an extensive elaboration of the broader topics, makes this game yet enjoyable. For each question, you will get four options, and you can get to see the whole narration of the history behind the right answer. All the questions appear with a picture relevant to it.
Below each question, you will see a list of comments which enable you to reply, like, or dislike. Besides, this game offers a list of mini-games within this app, which are categorized into three sections, such as memory, logic, and attention. This game is free to install, but you have an option to purchase the in-app items such as lives, hints, and other useful options.
» Download Free Trivia Game. Questions & Answer. QuizzLand
SO, What are the best trivia games on Android? And Did I miss out on any best trivia games on Android? If so, please write down your own list in the comment section below.