Top 10 best messaging apps Android in the world that you can download
New messaging apps have appeared to provide rich services offering all kinds of interactions with others, from free text messaging, to voice and video calling, to photo and file sharing with the added benefit of encryption. What are the best messaging apps on Android? We've tested out a lot of different options, so here are some of the best messaging apps Android.
Facebook Messenger
We'll be honest with you. Facebook Messenger isn't a great app. It uses a ton of battery, storage, and RAM. It also has ads. However, chances are that you have it on your device. Facebook has tons of users and it's likely you keep this around because you have those loved ones that just won't switch to something better. If you're going to have it around, you might as well enable its SMS support. That way you can kind of kill two birds with one stone. It has satisfactory SMS integration if that helps. It's not the best option when it comes to texting apps. It is among the most convenient, though, and it'll subtract one app from your app drawer if you already use Facebook Messenger.
Download Facebook Messenger for Android
WhatsApp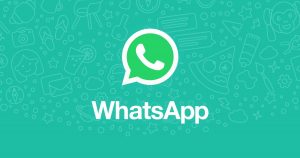 One of the most used best messaging apps Android in the world, WhatsApp is very easy to set up and it's free. You can chat, and share things like your location, photos, documents, and contacts. You can also make video and voice calls, and the app supports group calls of up to 8 people. The setup requires you to grant access to your contacts, so the app can automatically populate your contact list. One of the things that is so attractive about this app, other than its massive popularity, is the addition of end-to-end encryption for privacy and security, though it is owned by Facebook. It also supports GIFs and Snapchat-like editing features for fun.
Download WhatsApp Messenger for Android
Viber Messenger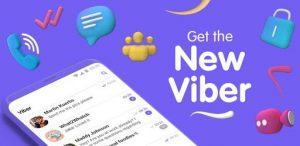 Viber not only allows you to send messages but also video, audio, files, and making calls. With more than 1 billion users, it provides you a simple and secure alternative to your default app. All you need is stable internet and you are set to go.You can sync your desktop and tablet app for inclusive messaging regardless of the device in hand. It also allows you to make international calls so you can stay in touch with friends. You can create groups where you can chat with friends or colleagues.
Download Viber Messenger for Android
Android Messages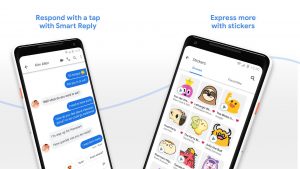 Android Message is a free texting app by Google. In terms of features, Android Messages keeps it light. You'll have some light theming options, some organization and backup features, and a decent search function. The design is entirely Material Design. That means it looks good and it's easy to use. Google also has big plans for this app, including RCS support along with other neat features. This also has a web version for texting on your computer. However, it is a fairly sizable battery drain so it's a hit-or-miss kind of feature.
Download Android Messages for Android
QKSMS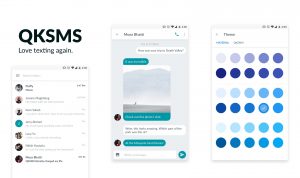 If you're looking to break away from the generic Android messenger, try this good-looking app. With a clear, smart and clutter-free layout, QKSMS makes texting stylish and simple. It also comes with a wide variety of customizable options like colors, background themes and night mode, which can turn a black-on-white into white/gray-on-black display.Additionally, the app comes with a Quick Reply feature that allows you to respond to a text without having to access the app itself. So, no matter what you're doing on your phone, you can respond to a text by using the apps' pop-up message bar.
Telegram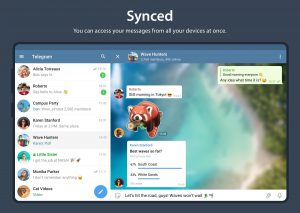 Boasting millions of active users, Telegram bills itself as the fastest messaging app around. It works across devices on mobile and desktop platforms. You can store chat history in the cloud, share files with no limit on size. Funded by a donation, Telegram's makers promise it will stay free, will never sell data, and isn't aiming to generate revenue. New features include animated stickers for photos or videos and a new media editor that makes it easy to enhance video quality and add texts and stickers.
Mood Messenger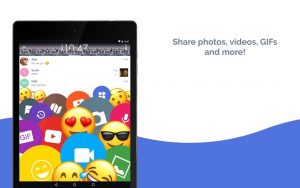 Mood Messenger is a feature-rich app that comes in free and premium plans. For the free plan, you'll enjoy sending texts, MMS, emojis, GIFs, changing themes, and more. You can also block spam messages and blacklist contacts, among others. Also, you can use the app at night or in low light thanks to the dark mode.The premium version presents you all basic functionalities and additional ones such as backing up and restoring messages, encryption, theme customization, and more. Besides, you can watch YouTube videos from the app eliminating the need to switch between apps. You can also send a location to your friends so they can locate you easily.
Download Mood Messenger for Android
Google Messenger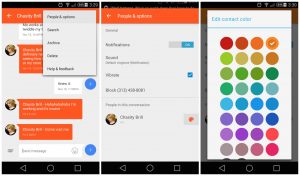 Google messenger is also another best messaging apps Android. The app comes with high-end features that help provide an unmatched text messaging experience. Besides the eye-catching design and free texts, Google Messenger allows users to send audio recordings, take photos, block SMS, and share your location. It is the best Google fi SMS app.
Handcent Next SMS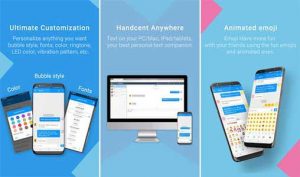 Another texting app that has been around since the" good old days" is Handcent Next SMS. This SMS app brings next-gen texting to Android-powered devices. Although Handcent was established in 2010, it has been updated with a new design, which gives it a fresh and modern appeal. It incorporates outstanding features such as built-in spell checking, theme support, password protection, group texts, and much more. It also allows you to send eCards, make free calls over the internet, and backup your text messages.
Download Handcent Next SMS for Android
Textra SMS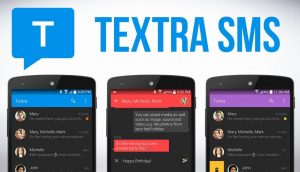 Textra is quick, smooth and dispenses with any unnecessary clutter.Its big push comes from its customization options. You can tailor and configure the interface settings to fit your specific taste and style. With 200 theme combos, GIFs and 21 different text sizes, Textra remains a great option for handling your text messages.You can schedule messages to be sent out at specific times and even set up delayed sending, which prevents messages from being sent by accident. You also have the ability to take pictures and send them via MMS to your entire group of friends.
Download Textra SMS for Android
You don't need to use the stock messaging app on your phone, while there are tons of best messaging apps Android choose from on Google App store. These alternative apps provide you with better functionalities, looks, and are easy to install and uninstall. So, up your conversations using either of the above apps.