Top 7 best eBook Reader Apps for Android you need to know
Finding the right eBook reader apps (also called eReaders) can be difficult. There are a variety of eBook types, plenty of file formats to deal with, and then there are different kinds of books (novels, comics, etc) that make the whole experience a little complicated. Here are the best ebook reader app for Android!
Amazon Kindle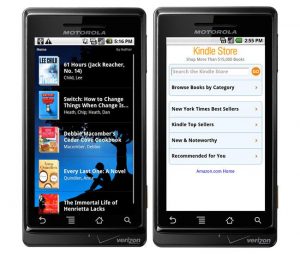 Kindle offers a wide selection of books, magazines and newspapers, making it one of the most popular eBook reader apps for smartphones and tablets. You don't have to own a Kindle device to enjoy books through the Kindle app, it's available on Android and iOS devices too. Additionally, the app has a ton of reading features, cross-device syncing, and even a large collection of free books. The UI is riddled with ads. However, the actual book reading part is free of any such nonsense. There are also a variety of customization settings while reading. It's a rock solid option for book availability alone. You can also download books for offline use if needed.
Download Amazon Kindle for Android
Aldiko Book Reader
Which is the best free eBook reader for Android? Aldiko Book Reader is one of the older apps to read books for free Android. It's also a great simple option for those who need it. It features support for EPUB, PDF, and Adobe DRM encrypted eBooks as well as eBook support for library books on rental. However, if you do want the app to save your reading sessions you will need to import the book, which will put the book on its virtual shelf. Aldiko provides several options to adjust font size, font face and background settings to suit the reader's needs. Aldiko offers a great reading experience with its extensive features.
Download Aldiko Book Reader Premium for Android
FBReader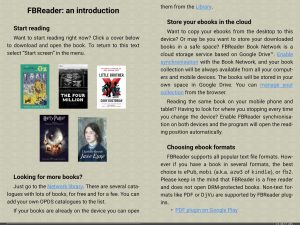 FBReader is a highly customizable eBook reader for all types of devices. It is available for devices that run on Android, Linux, Mac OS X, Windows, BlackBerry10 and other platforms. You can choose colors, font face, size, animations, bookmarks, etc. to suit your reading style. It organizes your library by authors and titles providing a simple view. It supports several eBook formats and direct reading from zip archives, and is localized for 29 languages! FBReader comes bundled with eight online catalogs that provide access to a large set of eBooks. It is integrated with popular dictionaries like SlovoEd, Fora and ColorDict.
Bookari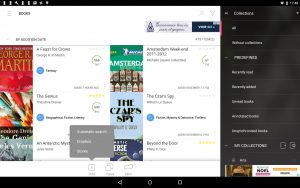 This is best ebook reader app for Android. Bookari was once Mantano Reader. The name changed. However, it's still one of the better eBook reader apps. It features cross-device syncing. You can also buy books directly from the service. Finally, it supports a variety of eBook formats, including EPUB2, PDF, and others. The app has a slightly different set of features for each different file type. The UI is a little more busy than we'd typically like to see. However, everything else is fairly solid. The free version contains advertising while the $5.49 pro version does not.
NOOK: Read eBooks & Magazines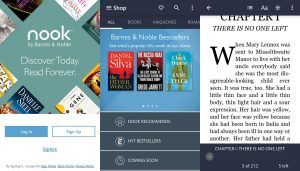 Barnes and Noble offers its own eBook reader app, NOOK, which hosts over two million books, magazines, kid's books and newspapers. NOOK offers several features that make reading easy and comfortable. The app offers a synchronization feature that automatically syncs the last page read across devices, rendering a seamless reading experience. You can also adjust the brightness for reading in dim lighting during night. The NOOK app is available on Android, iTunes and Windows.
Download NOOK: Read eBooks & Magazines for Android
Cool Reader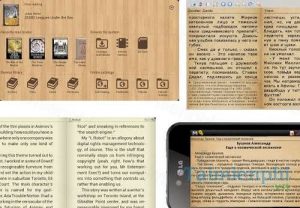 Cool Reader offers a fully customizable palette, text formatting for any font size and extra smooth scrolling that makes reading a pleasurable activity. Cool Reader is the only e-reader app that provides text-to-speech for free. It also offers a day/night toggle that renders two sets of colors, background and backlight levels for convenient reading. Cool Reader provides information on page count, percentage read and chapter marks at the top of the screen. It supports a wide range of file formats, such as ePub, fb2, html, rtf, txt and more.
Download Cool Reader for Android
Google Play Books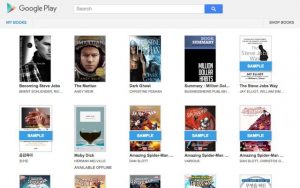 Google Play Books is a free eBook reader app for Android. It does have in-app purchases which mean that you will have to purchase books and audiobooks from Google Play before you access them. There is no monthly or yearly subscription available so you will have to purchase the books individually. Play Books provides various offers through which can get credit on the purchase of eBooks. There is a free sample available for preview which helps you in deciding whether a particular book falls under your interest category or not.
Download Google Play Books for Android
I hope you liked this list of best eBook reader app for Android. Try to incorporate these eReader apps in your life rather than buying paperbacks and contribute towards preserving our environment.